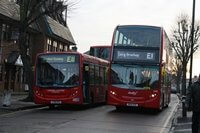 Eight bus services in London have been extended to 24 hours to link with Night Tube services.
The onward bus connections for Night Tube customers went live on August 19 and will run on Friday and Saturday nights, matching up with the new underground services on the Central and Victoria lines.
The services which have changed to be 24 hour are:
34 (Metroline, Barnet Church to Walthamstow Central);
123 (Arriva London, Ilford High Road to Wood Green);
145 (Stagecoach, Leytonstone to Dagenham);
158 (Stagecoach, Stratford to Chingford Mount);
296 (Stagecoach, Ilford Broadway to Romford);
E1 (Abellio London, Greenford Broadway to Ealing Broadway);
W3 (Arriva, Finsbury Park to Northumberland Park); and
W7 (Metroline, Finsbury Park to Muswell Hill Broadway).
Mayor of London, Sadiq Khan, said: "The Night Tube is going to transform our city, as for the first time tube passengers will be able to travel swiftly across the Capital throughout the night.
"The safety and security of Londoners is vital, and it's why we've invested in new police officers on the Tube and it's why we're bringing in these brand new 24-hour bus services.
"The routes will go hand-in-hand with the Night Tube to help Londoners get to and from their front door throughout the night.
"It's another key step in helping everyone travel quickly and safely at night, and another boost to unlocking the full potential of our night time economy."
The new services will run every 30 minutes throughout Friday and Saturday nights, other than the W7, which will run every 20 minutes.
Mike Weston, TfL's Director of Buses, said: 'These additional 24-hour bus services will enhance our London-wide, night time bus network and complement the Night Tube, making it easier for our customers to get home in the early hours of the morning.
"This will enable customers to make the most of London at night and will in turn help to boost the Capital's vibrant and growing night-time economy."
There are a total of 123 bus routes that operate overnight, of which 73 are 24-hour services and 50 are night bus routes.