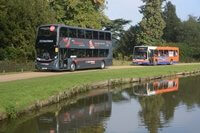 Organisers expect over 300 entries by the time the show takes place on September 17, with vehicles ranging from a 1911 Daimler Charabanc to a brand new Ensignbus Enterprise BCI
The organiser of Showbus have said that the event expects over 300 entries, with the number already booked and with several weeks still to go already over 200.
This year's Showbus international will be held at Donington Park on September 25. The new venue is proving so popular that a provisional booking for next year has already been made for September 17, 2017.
Amongst the many attractions planned for this year is the Barton Fleet Review in conjunction with Bartons offering a last chance to visit the old company premises at Chilwell prior to redevelopment.
Trent Barton is offering a special £18 zigzag day ticket on September 25, giving free travel across its network and admission to Showbus, which can be bought on any Trent Barton bus. Its Skylink services link Showbus and Chilwell with Derby, Leicester, Loughborough, Nottingham and East Midlands Airport.
Nottingham Community Transport is running a 20 minute frequency electric bus service linking East Midlands Parkway Station to Donington Circuit.  At Donington Circuit itself, Go-Goodwins will operate a frequent free shuttle service between the Park entrance and the Showbus display.
The Go-Goodwin's shuttle also serves the Grand Prix Collection, the largest collection of Grand Prix cars in the world, and the Wheatcroft Military Collection.  These are viewable at half price to Showbus visitors.
The National Playbus Association is holding its AGM at Donington the day before Showbus and up to 10 playbuses will be available for children to explore at Showbus on the Sunday.  Visitors can also get hands-on experience of the OMSI2 virtual bus software in the Launch Pad Pavillion – a new West of England version will be available as well as the two London versions: classic and present day.
Some of the classic vehicles already booked in include the 1939 former Leicester six wheel AEC Renown, one of several vehicles from nearby enthusiast collections. Other rarities include an open-top Bristol LDL extra-long Lodekka and one of the few Volvo C10M coaches ever imported to the UK.
A big display of Volvo Ailsas is heading to Donington. One is in Black Prince livery and will join several other preserved buses in those colours.
The unique collection of Barton vehicles including its 1911 Daimler Charabanc and the one and only lowbridge lowheight Dennis Loline, will be on display at Chilwell in the morning and will process to Donington around midday.
Modern exhibits include the Ensignbus Enterprise double-decker BCI, while Harris Higer will be showing off its Super 9 midi coach.  Red Rose of Aylesbury is celebrating 25 years of service with two new Alexander Dennis Enviro200 buses in a special silver and red birthday livery which will be ceremonially unveiled on the day.