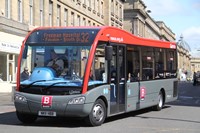 Nexus' Quality Contract proposal cited as most expensive option available by Oxera consultants
Bus operators met with leaders of the North East Combined Authority (NECA) on October 1 to outline partnership.
Detailed analysis of the Nexus plans conducted by independent economic consultants Oxera showed that the Quality Contracts Scheme (QCS) proposal is the most expensive option under consideration by NECA.
As previously reported, Nexus wants to create a London-style transport system which would mean the public body had the final say over where services should run as well as setting fares and timetables. It claimed this would result in fares being capped, services improved, increased bus usage and the safeguarding of concessionary services.
Other proposals included changing all buses to a uniform red colour with Nexus branding, network-wide smart ticketing, and combined ticketing on routes that travel outside the Tyne and Wear authority area into Durham and Northumberland.
It estimated the plans would bring £272m of economic benefits to the region over a decade.
However, the alternative is a partnership package put together by the region's biggest bus operators – Go North East, Stagecoach and Arriva. They have criticised Nexus' plans as being the most expensive option to the tax payer and have said they can offer passengers a better deal.
Their latest partnership proposals include:
• Smartcard multi-operator ticketing and better value fares;
• Commitments for investment in extra buses and new low carbon vehicles;
• Better information, on-board facilities, and a formal customer charter;
• Financial savings of up to £2m per year for the region's taxpayers; and
• A better voice for customers and local communities in their bus network.
Kevin Carr, Chair of the North East Bus Operators' Association (NEBOA), said: "We have put together a very strong partnership package which gives passengers what they want and at the same time meets the objective of councils in the North East to save money.
"In contrast, the bus contracts plan will substantially increase the cost to the combined authority of delivering public transport services in Tyne and Wear. It raises the prospect of substantial above-inflation fare rises for passengers and exposes local taxpayers to significant financial risks."
Dealing with the profit margins inside and outside London, NEBOA said that where bus services are delivered on acommercial basisas in Tyne and Wear, generally vehicles are owned by operators outright. In the London contracted environment, generally buses are leasedfor the term of the contract. The formal accounting of these vehicle costs is quite different. Where vehicles are owned, the interest costs involved are reported below the profit line. For leased vehicles, the interest costs are reported abovethe profit line. This results in a difference in the reported profit margins of bus operators in London and those outside. In practical financial terms, there is no net gain to NECA and neither is there a benefit to passengers or taxpayers.
However Bernard Garner, Director General of Nexus, claimed: "The partnership offer, while offering some passenger improvements and potential savings, does not come close to the benefits delivered the QCS."
He said it would also mean the final decision on routes, fares and timetables would remain in the hands of the private operators.
"This creates significant doubt over whether the improvements and savings would be achieved in practice," he said.
The Combined Authority brings together the seven councils which serve County Durham, Gateshead, Newcastle, North Tyneside, Northumberland, South Tyneside and Sunderland. The authority will meet on October 21 to decide on the way forward for its bus strategy, including an evaluation of partnership proposals and contracting plans.