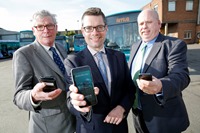 Arriva Southern Counties' (ASC) Northfleet depot has become the first in Arriva UK Bus to have its entire allocation of 78 buses equipped with WiFi.
Kent County Council (KCC) has made an undisclosed financial contribution to the project, through the Local Growth Fund, for installing the technology on the depot's 46 remaining buses which were not so equipped. Northfleet's allocation includes 21 new Wrightbus StreetLites used on the high-profile Fastrack network and 11 Sapphire standard buses which were fitted with WiFi when acquired new in 2015 and 2014 respectively.
Supplied by Icomera, Arriva will fund the system's ongoing maintenance costs. Approximately 200 of ASC's buses are now equipped with WiFi.
Matthew Balfour, Kent County Council Cabinet Member for Environment and Transport, explained the reasons for funding the project: "As a county council we are committed to improving broadband provision across the county – it's so integral to modern life, whether business, education or pleasure. Additionally, we are keen to encourage people to make use of public transport so we were pleased to provide the funding to make buses more attractive to passengers."
Simon Baxter, Marketing Director for Arriva, said: "This is a real step forward in modernising bus travel and hopefully correcting some misconceptions about public transport. Whether you want to catch up on some work or see what's happening on social media, you can now do it all for free while you're travelling."