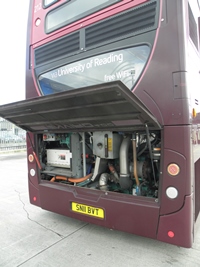 Operator to retrofit two existing double-deckers; one with a Vantage Power series hybrid system, and the other with a Magtec plug-in electric drivetrain coupled with a CNG engine
Reading Buses is set to upgrade the hybrid systems in two of its existing double-decker buses.
Speaking at the IMechE Transmission and Driveline Technology conference, Reading Buses Chief Engineer John Bickerton described the work as 'pushing the powertrain technology envelope beyond the present capability of existing suppliers.'
One vehicle will use Vantage Power's series-hybrid system, offering stop-start and selective zero emission running capability.
The second vehicle will be converted to Magtec's plug-in-electric drivetrain with a sub-1000cc onboard Compressed Natural Gas (CNG) engine to extend the range of the bus.
John Bickerton explained: "Even the most modern engines are not good enough, environmentally or commercially, for Reading Buses.
"We were an early adaptor of hybrid technology and are now at a stage where the whole life cost and performance of vehicles needs to be reviewed.
"We are really excited to trial these repower systems as the cost profile of our hybrids gives an opportunity to try something really innovative at this point in their lives."
John said the project followed the work last year to 'push the boundaries of interior design,' with the experience gained from the Claret Spritzer buses.
"We are now moving onto look at engines and gearboxes and using third party technology to bring mechanical experience from outside the traditional sections of our industry," he added.
The two technology providers will convert vehicles during 2016, competing for a chance to upgrade a share of the remaining hybrid bus fleet as the vehicles come out of their original manufacturer's warranty.
John said: "The work will be supported by £356,000 funding from the Department for Transport under the Clean Vehicle Technology Fund, improving the fuel efficiency of our hybrid buses and making savings from mitigating extended warranty costs.
"Testing has already been completed by Millbrook Proving Ground to provide baseline emissions results and the project aims to halve NOx emissions on a per-km basis, as well as target zero emission running in the most congested parts of our operating area.
"The work is also commercially focused. The upgraded vehicles will be cheaper to operate and have greater warranty cover through their whole life.
"The project stands to deliver a 'virtually electric' bus for less than the normal on-cost for a conventional hybrid system – despite the extra work of repowering an existing vehicle.
"An equivalent brand new bus would cost at least twice as much."