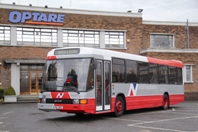 Northumbria Buses is celebrating 25 years since the former company took over routes previously operated by United Buses North of Tyne.
The company, which has since become Arriva following industry deregulation and privatisation, is to celebrate the occasion with a special anniversary event on September 6.
The event will be held at Newcastle's civic centre, where the company originally launched, and will feature a Northumbria liveried Optare Delta, one of the first buses purchased by the company which formerly ran the 251 route in the area. The bus is still owned by former managers to display at heritage trade shows.
Northumbria Buses operated a fleet of over 250 buses which were liveried in the company colours of grey, red and white. Northumbria launched on September 6, 1986 with its promise to offer "a new service tailored to meet the needs of the local community" at a launch attended by Tyneside comedian Little Billy Fane.
The now retired David Monaghan, the company's former managing director told CBW he was looking forward to familiar faces getting together to celebrate the anniversary and hoped driver would share memories of driving buses along the route from Berwick-upon-Tweed to Tyne on Wear.
David said: "John Fickling, Tony Kennan and myself founded the company and as well as being business partners are also close friends. We meet up on a regular basis and Tony reminded all of us of our 25th anniversary coming up in September.
"We all thought it would be a wonderful idea to get as many past colleagues as possible together who worked with us between September 1986 and July 1994 as we felt Northumbria was something special and worthy of such a celebration."
David added: "It was nice going through the names of past workers as it triggers happy memories. We have had a great response so far of over 100 people coming along and more to come hopefully."
The invitation is open to all of the company's over 1000 former employees, 166 of which still work with Arriva.