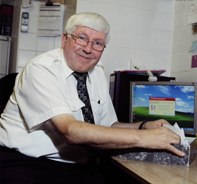 Arriva driver and former Bus Idol winner John Callaghan from Wakefield took his last journey on Thursday August 25 after a career spanning over 40 years.
He has completed the 217 Overton to Leeds route for 19 years, and built up a close relationship with many of his passengers, being on first name basis and even receiving Christmas presents.
John, 64, began working for Arriva's predecessor in 1970, firstly as a conductor and then a driver, a role he held for 36 years.
John said: "It has been an enjoyable career and I would not have wanted to do anything else.
"When I first moved to the area the only road I knew was the one from Hemsworth toWakefield.
"Meeting people is the best part of the job and by doing the same route for so long I have got to know lots of families from the Overton, Netherton and Horbury area.
"The only thing I will not miss is having to get up on the cold dark winter mornings."
"There has definitely been more ups than downs over the years and I've enjoyed working with the staff and the management."
John took on the role of secretary of the company's sports and social club and ran the staff canteen for 21 years. He said his proudest moments were when he won the Bus Idol competition and the Dennis Ellis Award in 2005.