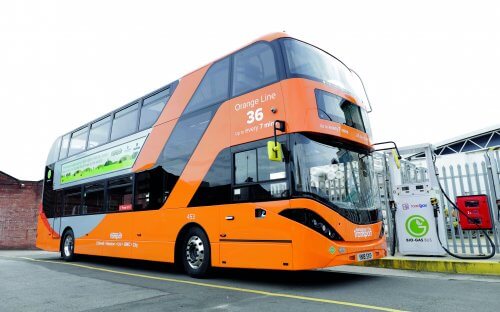 Nottingham City Transport (NCT) won the the Environmental Improvement Award at The Chartered Institute of Logistics and Transport (CILT) Awards for Excellence. The ceremony was held virtually, to celebrate and honour the best individuals and organisations who have played an integral part in delivering logistics and transport throughout the last 12 months.
Following its £42m investment in 120 biogas double-deckers since 2017, along with exhaust treatment systems installed on 180 diesel vehicles, the Environmental Improvement Award recognised NCT's commitment to reducing its environmental impact, where fleet emissions have been reduced by 90% through operation of a full Euro VI-compliant fleet.
Gary Mason, NCT's Engineering Director said: "NCT operates one of the youngest and greenest bus fleets in the country and we are thrilled to pick up the Environmental Improvement Award. This recognises NCT's significant fleet investment that has achieved a 90% reduction in fleet emissions and significantly improved Nottingham's air quality."
NCT's environmental improvement has been achieved through partnership with organisations including Nottingham City Council and Nottinghamshire County Council, which secured £3m of funding from the DEFRA Clean Bus Technology Fund and supported NCT's OLEV (Office for Low Emission Vehicles) bids.
Roadgas and Air Liquide have also played an important role, along with Scania and Alexander Dennis (ADL) who helped develop the biogas double-deck bus.
Steve Gooding FCILT, President, CILT(UK), said: "This year, transport and logistics and its associated supply chains have been thrown into the global spotlight. At CILT, we know that many organisations and operators exemplify excellence throughout the sector, but do not receive the recognition they deserve. We wanted to take this opportunity to shine a light on those organisations, especially in the hardest of times."
NCT has also undertaken several projects that have reduced its environmental impact, including installing a computerised energy management system; LED lighting; recycling 90% of its waste; fitting buses with 'idling' technology; and providing 'safe and fuel efficient driving' training to all drivers to minimise fuel use and reduce wear and tear.