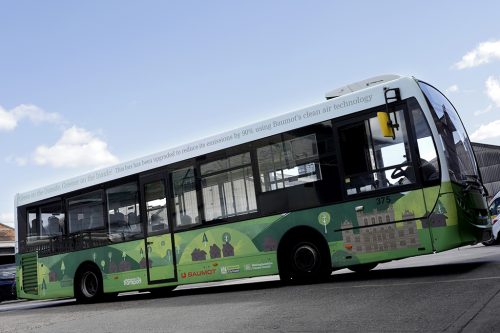 Nottingham City Council has announced today that citywide measures to reduce pollution which are already underway have made plans for a Clean Air Zone (CAZ) redundant.
Cllr Sally Longford (Labour, Wollaton East and Lenton Abbey) said that existing measures would reduce air pollution to below the legal limit without the need for a CAZ.
A recently-announced retrofitting programme – which involves modifying 180 Nottingham City Transport (NCT) buses to meet Euro VI emissions standards – is one of the main projects which has contributed towards the air quality improvements.
Additionally, the city now requires every taxi and private hire vehicle to be low-emissions, and the council has replaced its bin lorries and other heavy vehicles with electric or more environmentally-friendly alternatives.
The council is considering plans to revise the existing 'Clear Zone' – which restricts access to the city centre – to include emissions criteria and a taxi permit scheme.
Cllr Longford said: "Results of air quality modelling showed these measures will have a significant effect in reducing emissions, bringing Nottingham into compliance by 2020.
"Although we considered a Class B Clean Air Zone – which would have affected HGVs, buses and taxis – the actions we're taking will have a positive impact across the whole city, rather than just in one area.
"Our priority has always been the health of our citizens, rather than meeting Government targets, and this hasn't changed. Road vehicles are one of the largest contributors to air pollution, and it's thanks to the council's significant and sustained investment in green public transport – like the trams and low emission buses – that we are in a really strong position to be able to improve air quality.
"We have one of the UK's largest all-electric Park & Ride fleets, an electric tram that carries more than 17 million people every year and NCT has the world's largest fleet of low emission biogas buses. These measures have already gone a long way to achieving cleaner air in the city."
The council's Executive Board will consider the following proposals later this month:
Delivering the retrofitting programme for NCT's older buses with clean exhaust technology to meet Euro VI standards;
Enforcing the Taxi and Private Hire Vehicle Strategy age policy to reduce the age of the hackney carriage and private hire fleet, supported with the introduction of an incentives package to shift the taxi fleet towards low emission vehicles, including a 'try before you buy' leasing scheme; and
Delivering the council's own fleet renewal programme to purchase new EVs in its specialist/heavy fleet
The board will also be asked to approve, in principle, further measures, including amending the city's two Air Quality Management Areas to cover the whole city, and seeking to enforce anti-idling legislation.
If these measures are agreed, a public consultation will take place during August before the city's final local air quality plan is submitted.
Cllr Longford continued: "We know from earlier consultation there is a lot of support for prioritising measures to improve air quality, and we're looking to go beyond the minimum requirements of the Air Quality Directive to introduce further measures.
"These include seeking to amend our existing Air Quality Management Areas to cover the whole city, and to enforce anti-idling legislation. We're also looking at revising the city centre Clear Zone, introducing emissions criteria for some classes of vehicle, including a taxi permit scheme."
However Jeff Counsell, Managing Director of Trent Barton, told CBW that the company had been taken completely by surprise when Nottingham City Council made the announcement.
He added: "We were constantly trying to get the council to define the boundaries of the CAZ, but they continually failed to identify the area affected, state what charges would be levied for non-compliance or confirm whether the bus stations – where we are the primary operator – would be included or excluded.
"Until we had the answer to those questions, it was impossible for us to determine what to do with the 70 buses we have which would not have been compliant.
"Because it was not possible for us to make a commercial decision on how many buses we needed to retrofit to comply with the CAZ, when funding was made available for that purpose, all of it was given to council-owned NCT.
"The council also did not acknowledge the effort we have been making to reduce the emissions from our fleet and contribute to improving air quality, despite the fact that every bus we have purchased since Euro VI was first available has been a Euro VI bus."