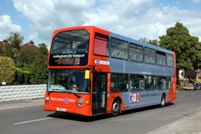 Other leading areas include Oxfordshire and Devon, while Milton Keynes scored the lowest in Passenger Focus' study
Passenger Focus has released the results of its latest Bus Passenger Survey (BPS), revealing bus users in Nottingham are the most satisfied at 92%.
Passengers in Milton Keynes were the least satisfied with a score of 73%. Overall satisfaction averaged 84%.
Satisfaction with value for money ranged from 30% to 70% across the areas surveyed (averaging 54%).
Anthony Smith, Passenger Focus CEO, said: "Each year some 2.3bn bus journeys are made in England outside of London, meaning passengers are not satisfied with around 375m journeys. We hope this report will be a call to action for transport authorities and operators to better work together to improve things for passengers. In particular they should closely examine how the high level of passenger satisfaction in places like Nottingham, Oxfordshire and Devon has been achieved, and then look to replicate it."
The BPS surveyed 22,000 bus passengers across 20 areas of England and looked at many factors of passengers' journeys.
Key findings include:
Satisfaction with punctuality ranged from 57% to 83% (averaging 70%);
The proportion of passengers who said they experienced behaviour which caused them to worry or make them feel uncomfortable during their journey ranged from 4% to 17% (averaging 10%); and
The factors driving passenger satisfaction are broad, but often relate to the bus driver, in particular 'smoothness/freedom from jolting'. The most prevalent drivers of dissatisfaction are 'onbus journey time', 'safety of the driving', 'smoothness/ freedom from jolting', and 'length of time waited'.
The BPS also showed lack of route information onboard buses scored the lowest out of 12 measures relating to on-board experience. Guide Dogs believes its Talking Buses campaign can help improve this.
Guide Dogs' Campaigns Manager, James White, said: "This is clearly an issue for all bus passengers, not just those with sight loss. A simple way to improve this would be the introduction of audio visual next stop and final destination on-board announcements, as called for by the Guide Dogs' Talking Buses campaign. Only London has a comprehensive Talking Buses network, and Guide Dogs want this inconsistency to end."
Regarding Nottingham's top Nottingham achieved passenger satisfaction results of 92% score, NCT Marketing Manager Anthony Carver-Smith said: "It's testimony to the hard work of all our staff that we have achieved such high marks. Ensuring our passengers are happy with their whole journey is our main objective at NCT, which is why we have made significant investments into tracking and fleet management technology, driver training and new buses. It's clear this investment, partnership working with the City and County Councils, combined with the dedication of the team to provide the best possible service is paying off which is excellent news."
Giles Fearnley, MD of First Bus, said: "It is great to see the improved value for money, which we have been offering in Sheffield since last summer, being reflected in the Passenger Focus results. I am certain that overall satisfaction in South Yorkshire will also show improvements in the next surveys following the partnership which was implemented across the Sheffield City Wide area in late October. This is just one of very many examples where we are working alongside our PTE and local authority partners to deliver improved bus services."
The full survey can be downloaded from https://tinyurl.com/bq9bdqn