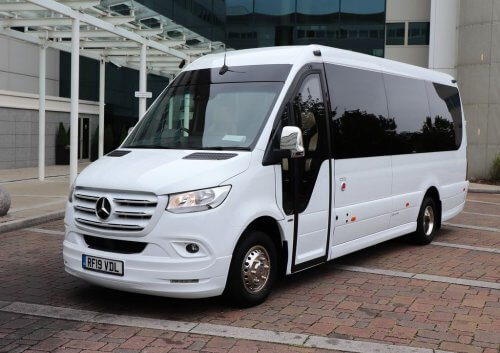 Rye-based Nova Bussing has grown up in the coach industry with their fathers and grandfathers operating coaches. The current directors of Nova Bussing have been operating coaches since 1992. In the early years, they started out transporting bands and touring groups.
Over recent years, they have evolved to operate a modern fleet of Mercedes-Benz vehicles, with brand new minibuses/coaches purchased every couple of years.
The latest purchase by Nova Bussing is a pair of new Mercedes-Benz Sprinter Euro VI based EVM Elegance 16 seaters from EVM Direct.
The Mercedes-Benz Sprinters are 516CDI extra-long wheelbases with Common Rail Direct Injection diesel engines. Transmission is a 7-Speed G-Tronic Automatic gearbox.
The exterior is finished in Mercedes-Benz Arctic White. Additionally, Nova Bussing has specified an EVM front bumper spoiler fitted with integrated day time running lights, colour coded bumpers, side moulding and front grill, ECM X-Clusive wrap-around rear bumper spoiler all complimented with a chrome styling package.
Passenger entry is via the Masats electric plug door, with moulded three stage entry step with LED strip lights. EVM panoramic double glazed saloon windows in privacy grey are fitted with a large coach panoramic windscreen with twin roller blinds for great all-around vision.
Climate control is provided by a powerful Eberspacher EV814 14kW saloon air conditioning unit which is ducted through overhead racks and exits through passenger service units.
There are 16 executive EVM110 seats which are fitted with three-point seatbelts and aisle folding armrests, and are finished in real leather. All seats have reclining backrests.
This vehicle is complete with hard-wearing Tarabus non-slip flooring and ribbed carpet.