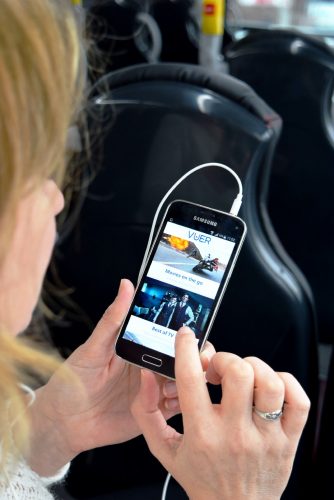 Films, television and magazines available for free on three bus services along with WiFi
National Express has launched its infotainment services on three West Midlands bus services.
National Express West Midlands (NXWM) is calling the service the UK's first on-bus infotainment system, offering blockbuster films, TV, news and magazines online completely free of charge.
The VUER (View, Unwind, Enjoy, Relax) app allows customers to enjoy hours of free entertainment, as well as news and weather, plus free WiFi on their own phones or tablets from the comfort of their seat.
Peter Coates, Managing Director of National Express West Midlands, said: "It's very exciting to be the first operator to launch an on-bus infotainment system. It means our customers can now unwind, relax and get the most out of their journey.
"Passengers on three Platinum express services can now browse the internet, read up to £20 worth of magazines, enjoy films and television programmes for both adults and kids – all for the cost of a bus ticket.
"So bring your headphones, sit down on the comfortable Platinum seats with their extra legroom, and take in a movie.
"I've been watching Mission: Impossible – Rogue Nation, but we've also got Shaun of the Dead and Despicable Me 2, as well as TV comedy and drama, cartoons,