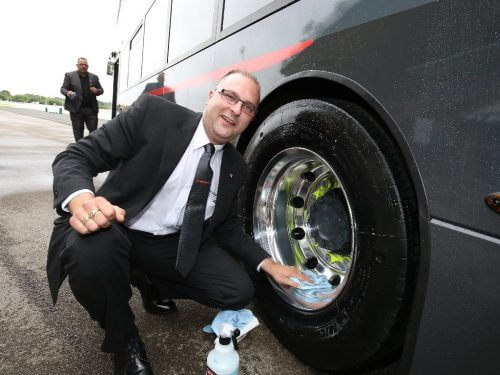 National Express West Midlands (NXWM) has been recognised for having the largest fleet of low-carbon certified buses outside London, resulting in it receiving a Carbon Saver Gold Award for the third time.
The NXWM low-carbon fleet is made up of:
 96 Alexander Dennis (ADL) Enviro400 MMC hi-spec Platinums-branded double-deckers, delivered in 2016;
 50 ADL Enviro200 MMCs, delivered in 2015;
 Five Wrightbus StreetDecks;
 18 Wrightbus Gemini-bodied Volvo B5LH hybrids; and
 21 ADL Enviro400 hybrids.
Managing Director, Peter Coates, said: "I'm delighted that our multi-million pound investment in 190 cleaner greener buses is making a real difference to the environment.
"This is the third time in a row we've won the Carbon Saver Gold Award. That demonstrates our impressive seven-year track record in continually reducing carbon emissions."
Colin Saward, Head of Operational Engineering at National Express UK Bus, explained: "To be certified low-carbon, buses have to meet strict government efficiency standards in real-life tests, so we really pushed the boundaries to get our engines pulling less weight.
"We worked closely with manufacturers, especially ADL, to get that weight down.
"We shaved the thickness of the glass in our windows down from 4 millimetres thick to 3 millimetres. The 96 Platinum buses we bought in 2016 all had alloy wheels. They don't just look cool – four of those on a bus saves 80kg, the weight of an average man."