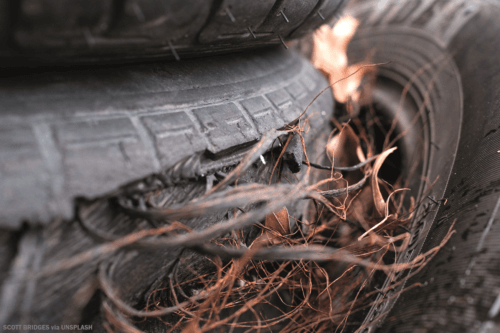 An obvious tyre defect on a vehicle presented for MOT had significant consequences for a sole trader operator

Traffic Commissioner for the Western traffic area Kevin Rooney called Andrew John Southon to a public inquiry (PI) on 2 November at which adverse findings were made under Sections 17(3)(aa), 17(3)(c) and 17(3)(e) of the Public Passenger Vehicles Act 1981, the latter in relation to financial standing and fitness. The operator's licence was revoked with effect from 16 November, whilst Mr Southon was found to be no longer fit to be the holder of a vocational PCV entitlement. The entitlement was also revoked from the same date and Mr Southon disqualified from holding a PCV licence for a period of twelve months.

The operator held a restricted public service vehicle operator's licence that authorised the use of two vehicles. The operator presented vehicle LF09 UDY for its PSV MOT on 10 November 2021. It failed on five separate items and had a further advisory defect. The nearside outer tyre on axle 2 had a deep cut in the tyre with cords exposed. The vehicle was prohibited from further use and the examiner considered that the tyre defect should have been identified by the driver. He marked the prohibition as identifying a significant failure of compliance systems. A follow-up maintenance investigation identified significant shortcomings and so the operator was called to a public inquiry. Due to the nature of the defect, Mr Southon was also called to a conjoined driver conduct hearing to consider his vocational entitlement.

[…]

By subscribing you will benefit from:
Operator & Supplier Profiles
Face-to-Face Interviews
Lastest News
Test Drives and Reviews
Legal Updates
Route Focus
Industry Insider Opinions
Passenger Perspective
Vehicle Launches
and much more!