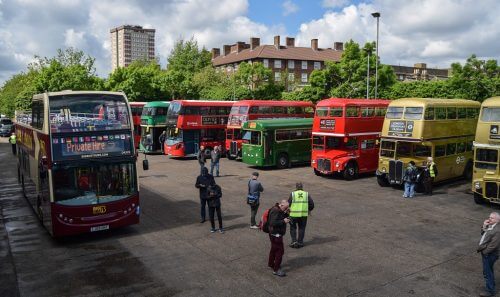 Hackney Community Transport Group (HCT Group), Arriva and Transport for London (TfL) opened the doors of Ash Grove garage on Saturday (April 22). Built in 1981, the depot replaced Dalston and Hackney garages and is capable of accommodating 170 buses.
Ash Grove has closed twice over the years. The first time was in 1991 following the loss of London Forest's (who took control of the garage following privatisation) tendered routes. It reopened in 1994 for use by Kentish Bus and also the London Transport Museum to hold a number of exhibits before they moved to their dedicated home at Acton. That continued until 1998 when it closed for a second time.
In 2000 the garage was reopened again for use by East Thames Buses, an arm's length subsidiary of Transport for London. HCT also moved to the site the same year. Arriva London arrived in 2005 following the introduction of Mercedes-Benz Citaro 'bendy-buses' on route 38, which couldn't fit into the nearby Clapton Garage. Seven years later those vehicles were replaced by the New Bus for London, of which the first eight prototypes operated from Ash Grove.
HCT, which trades as CT Plus, had expanded its TfL operation to 13 tendered routes, with five of those now running from a second garage opened this year at Walthamstow Stadium. All maintenance still takes place at Ash Grove.