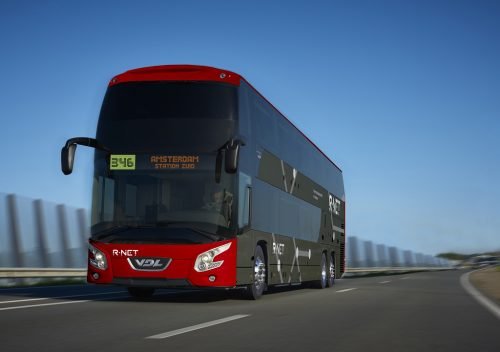 Largest electric bus fleet in Europe ordered by Transdev subsidiary for Dutch concession
HOLLAND Dutch public transport company Connexxion has placed an order with VDL Bus & Coach for 100 Citeas SLFA Electrics and 18 Futura FDD2s. It's the largest order for electric buses in VDL's history and gives Connexxion and its parent company Transdev the largest electric bus fleet in Europe. It's also the first time that double-deckers will be used on route work in Holland.
All the vehicles are destined for the Amstelland-Meerlanden concession in the province of North Holland, a concession characterised by huge passenger demand.
"This is the first stage in the transition to completely emission-free public transport for Amstelland-Meerlanden," said Eric van Eijndhoven, Public Transport Director for Connexxion. "Naturally, we are using all we have learned in the South-east Brabant concession, where VDL successfully supplied us with 43 articulated Citeas Electrics. Therefore we have every confidence in the product and the collaboration with VDL."
Ard Romers, Director VDL Bus & Coach Nederland, added: "We want to be the top specialist in the field of E-Mobility. This past year we have taken big steps towards further strengthening our position.
"We also offer customisation to meet the wishes and requirements of a transport operator. The use of Futura double-deck coaches for very busy routes is a good example of this. We are therefore particularly proud of this mega-order for a total of 118 vehicles."
The 100 electric Citeas will be deployed on routes serving Schiphol and the surrounding area and on BRT (Bus Rapid Transit) lines within the concession area. They're the same type of vehicle as the articulated buses used by Hermes in Eindhoven. However, with 100 units involved, this will be the largest electric bus fleet in Europe. Batteries will be topped up periodically to enable 24-hour operation. Each of the electric buses will be driven over 100,000km annually.
The Futura double-deckers will be used on BRT lines between Haarlem and Amsterdam South. With a length of 14.1 metres, each vehicle will be able to accommodate up to 86 seats. Door layouts will reflect their use on demanding public services. To optimise the flow of passengers and entry and exit, displays will be placed on the outside to show where free seats are available.
Transdev is active in Holland under the Connexxion Openbaar Vervoer, Connexxion Taxi and Witte Kruis brands. Transdev operates in 19 countries and internationally provides various types of transport: buses, taxis and trains, light rail, ferries and bicycles. Over 83,000 people are employed.