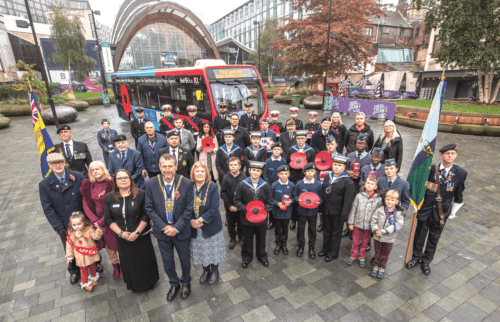 Operators across the UK joined this year's remembrance events by displaying poppies on their vehicles
As reported in last week's news pages, many operators across the country provided free travel to veterans and serving members of the armed forces over the weekend of 11 and 12 November, with many vehicles also carrying the poppy symbol in many forms. On Friday 27 October First launched its poppy appeal bus in Sheffield, in partnership with the Royal British Legion. Veterans, the Lord Mayor of Sheffield, Air and Sea Cadets and volunteers were then taken on a special tour around the city centre. Inside the bus are drawings from primary school students across Sheffield of poppies showing what Remembrance Day means to them.
Managing Director at First Bus, Manchester, Midlands, and South Yorkshire said Zoe Hands said: "It's a great honour for First Bus to be among those leading Remembrance in Sheffield, and indeed a privilege to be an employer of so many who have served our country. I'd like to say a big thank you to everyone who was involved in making the poppy bus happen."
Karen Gardner, Poppy Appeal Manager for the Royal British Legion in Sheffield and Rotherham, commented: "We are very grateful for the support of First Bus for our 2023 Poppy Appeal. All funds raised from the Poppy Appeal are used by the RBL to support veterans and their families, from help with the cost of living, employment, and housing, to support with recovery after trauma or illness.
"We want to encourage as many people as possible to get a poppy this year and show their gratitude and support to those in the Armed Forces whose service and sacrifice should never be forgotten. We're so proud that this year, we have our new plastic-free poppy too, so that the public can wear this poignant symbol of Remembrance, with less impact on the environment."
Simon Pearson, Chief Commercial Officer at First Bus, added: "Remembrance Sunday is an important and solemn reminder of the sacrifices made by so many in our Armed Forces, and we wanted to do something to mark the occasion. We have a number of veterans working for First Bus and we're very proud of their efforts and sacrifice. This is our way of saying thank you to them, as well as honouring all men and women who choose to serve and protect the freedoms our country now takes for granted. We look forward to welcoming veterans and serving service men and women on board this weekend."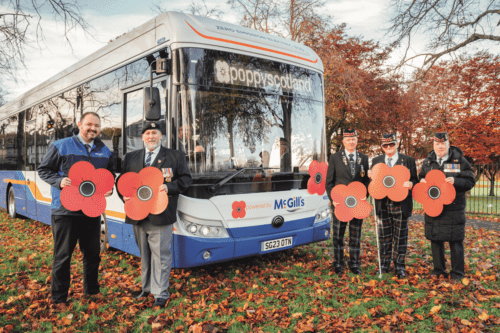 McGill's
McGill's Bus Group is another large group which paid its respects. The operator already provides those working for the armed forces with free travel on its buses all year round, but extended that to include veterans of the armed forces on Sunday 12 November to help people access Remembrance services.
Gordon Michie, Head of Fundraising and Learning at Poppyscotland, and an RAF Veteran, said: "This is a fantastic initiative that will allow many veterans, as well as those that currently serve, to attend Remembrance services across the many communities served by McGill's. Remembrance is a deeply personal time of reflection for all those that have served, those that still do, and for their families and communities. But, we all know that the cost-of-living crisis is impacting on every single pocket across Scotland. So I am personally pleased that economic conditions will not present a barrier to attending such an intrinsically important event for those in our Armed Forces community.
"I would like to thank McGill's for their contribution at this time, and for placing the Scottish Poppy on their buses as a show of support for the Scottish Poppy Appeal."
McGill's Group Managing Director Alex Hornby added: "The Armed Forces are close to the hearts of many of our colleagues and customers and we're proud to be able to support both serving military personnel and veterans attending Remembrance services this Sunday. Every year we're delighted to support the poppy appeal and Remembrance activities by offering free travel to veterans and supporting armed forces charities.
"This is all underpinned by our ongoing and uninterrupted support to those in the Armed Forces through our free travel programme and our signing of the Armed Forces Covenant earlier this year."
Transport for Greater Manchester also offered free travel for veterans and members of the armed forces, and displayed poppies on its Bee Network bus and tram services, as did Reading Buses, which added that it told drivers who wish to do so that they could pull their buses over to observe the minutes' silences on Armistice Day and Remembrance Sunday. The operator also said it will also be making a contribution to the Royal British Legion charity appeal.