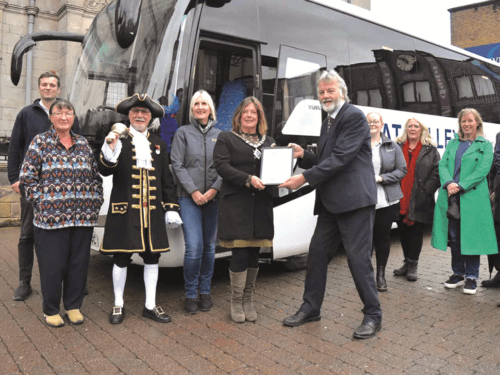 Oswestry has been awarded Coach Friendly accreditation status by the Confederation of Passenger Transport (CPT). The award was a culmination of Oswestry BID's aim to increase the frequency and regularity of coach visits to boost the footfall and income for local shops, cafés, businesses and organisations.
BID Manager Adele Nightingale said she was thrilled, and expects significant economic benefits over the coming years: "We're so pleased to get this over the line," she said. "Oswestry is a wonderful town to visit and given the nearby towns and cities, we can expect to welcome many new visitors to enjoy everything we have to offer. A strong and sustainable local economy is the heartbeat of a town, and we see Coach Friendly accreditation status as a really positive step in support of that strategy. Our thanks also to Oswestry Town Council for their assistance with the project, and for hosting the presentation."
Lee Lucks, Chairman of local tourism group Oswestry Borderland Tourism, said he was pleased to hear of the award, and looking forward to welcoming more visitors to the town: "We are delighted that the town of Oswestry has been awarded Coach Friendly status," he said. "We're always looking for ways to bring more visitors to our lovely town, and being known as a coach-friendly town will give us even more opportunities to showcase all the best of our friendly market town. With the tourist information centre right next to where most coach parties are dropped off, we are looking forward to meeting visitors as soon as they arrive and being able to point them to all the great places to see in town."
CPT members Tanat Valley Coaches were present at the ceremony, while CPT's Regional Manager for the West of England John Burch, and Coaching Manager Phil Smith, were on hand to present the Oswestry BID team with their award.