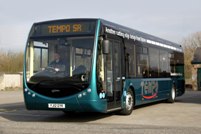 AUSTRALIA Optare is moving into the Australian bus market with the exclusive appointment of a new dealer and plans for demonstration vehicles to be available in the near future.
The dealer, Avia Oceania, is based in Dandenong, a suburb of Melbourne, and is the Avia truck dealer for Australia. Avia is a subsidiary of Ashok Leyland, Optare's major shareholder, and the appointment directly stems from that relationship.
Initially Avia Oceania will offer Optare's Tempo SR and Solo SR single-deck models. These integral buses are expected to prove appealing to Australian operators because of their low-weight and fuel efficiency.
Glenn Saint, Optare Deputy CEO, said: "The Australian bus market is substantial with an estimated 88,000 buses registered and has shown consistent growth over the past few years. The structure of the market also lends itself to our products with a large proportion, some 60%, being small buses.
"We'll also look at the high density urban sector with our Tempo model, which is available in three lengths of 10.6, 11.3 and 12m and with seating capacities ranging from 35 to 43. The 12-metre SR model has the potential to carry up to 85 passengers.
"The appointment of Avia Oceania as our representative in Australia is an example of the benefits we are gaining from our relationship with Ashok Leyland. It is able to support us in a number of ways to open up new markets and we are excited at the prospects of doing business in Australia."