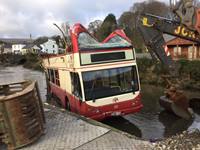 Bus Vannin's East Lancs-bodied Dennis Trident number 20, which ended up on its roof in the river at Laxey following the collapse of the bridge it was standing on, has been recovered and scrapped.
As reported in last week's issue, the bus had completed its journey on school route 44 which terminates in Old Laxey. It was going over the bridge to turn on the coach area of the promenade when the bridge collapsed. The driver got out safely. The complicated salvage operation was carried out on Friday (December 11).
After the headquarters of Isle of Man Transport at Banks Circus were flooded
overnight on December 3, administration and bus control teams were temporarily relocated to the Welcome Centre at the Sea Terminal. They have since returned, but the cleanup continues. Some buses were damaged by flooding, however.