The Oxford Bus Company is increasing the size of its PickMeUp fleet for the second time in response to passenger demand.
Two additional Euro VI Mercedes-Benz Sprinter minibuses will go into service on Sunday 10 March. An additional five new driving jobs have been created.
Two new vehicles were also added to the fleet in October 2018.
Phil Southall, Managing Director of the Oxford Bus Company said: "Due to phenomenal demand we have added two additional buses to our PickMeUp fleet to enable us to expand the service and respond to more pick-up requests.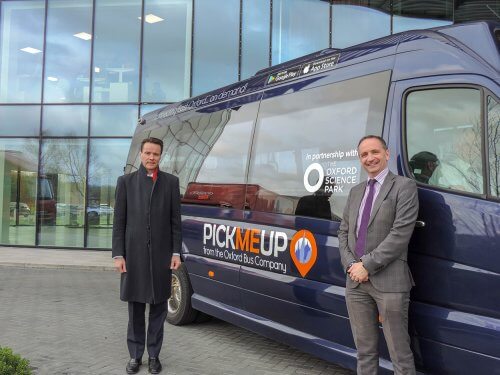 "This has also resulted in the creation of five new driving jobs, creating more employment in the city.
It's another encouraging step and we look forward to continuing to develop the service where possible. PickMeUp is a new innovative service which we are continuing to adapt and develop, and I'd encourage passengers to complete our online survey to provide feedback to us."
PickMeUp was introduced in June 2018, enabling passengers to request a minibus pick-up within 15 minutes at a virtual bus stop using a mobile phone app.
The service provides flexibility for passengers to choose both the start and end point of their journey within the Eastern Arc of the city. Passengers are matched with others wishing to make similar journeys to enable ride sharing.
It was designed to help reduce congestion and compliment traditional services.
In addition to this the Oxford Bus Company and The Oxford Science Park have formed a partnership to strengthen the service.
The Oxford Science Park is its first corporate partner and the partnership will help PickMeUp continue to provide improved connectivity.