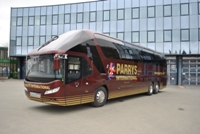 Parrys International is adding a 16th vehicle to its fleet, which it said was to ensure all its 2013 holidays are delivered in what may be its final year of operation.
Parrys has not taken any bookings for next year but is delivering a full programme of tours and holidays this year, with Germany, Austria, Italy, Switzerland, Spain and Holland among the destinations.
The 50-seat MAN Neoplan Starliner coach has been made to owner Dave Parry's specifications in Germany and has been painted in the company's burgundy and gold livery. It is also to be entered in the 2013 UK Coach Rally which is being held this year at Alton Towers on April 20 and 21.
The fleet will be sold if Mr Parry decides not to carry on or sell the business, which has an annual turnover of £5m, to a new owner. An announcement is expected in the next few weeks on the future of the Cheslyn Hay-based firm.
Dave Parry originally announced in February he planned to shut at the end of the year due to increasing regulation and costs. He has since had a rethink after messages from customers urging him to stay in business.
Dave, who was 65 last month, said: "I hope to make a positive announcement in the next few weeks."