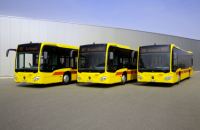 SWITZERLAND Swiss operator BLT Baselland Transport AG has taken delivery of nine Euro 6 Mercedes-Benz Citaros. These are the first standard-production regular-service buses featuring this clean technology to go into service with BLT in Switzerland.
The new Euro 6 Citaro is claimed to be the cleanest diesel-driven bus on the market featuring an optimised combustion process and a sophisticated emission control system which reduces particulate emissions to just 3% of the level specified by Euro I twenty years ago. Nitrogen oxide emissions have been cut to 5%.
The Citaro also features a new outer shell with a raft of new design measures yet the buses weigh no more than previously – despite the additional technology on board. Mercedes-Benz said they offer lower fuel consumption – and lower CO2 emissions than originally expected. The manufacturer implemented a number of measures to compensate for the additional weight of the Euro 6 components, including a lightweight fibreglass-reinforced- plastic (FRP) roof and a weight-optimised rear axle. The modifications mean Citaro is able to boast the same high payload and passenger-carrying capacity as before.