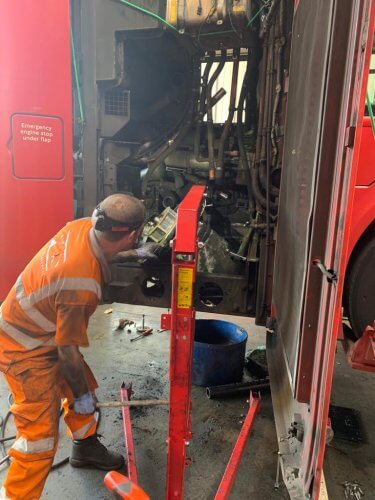 Engineering support firm Paul Clark Services, which works with the likes of First Group, Stagecoach, Go-Ahead, Arriva, Wrightbus and Optare, has said that it can 'finally see light at the end of the tunnel' following the coronavirus lockdown.
The company was established in 1997 by Managing Director, Paul Clark, who told CBW that things are starting to look up: "After 24 weeks of stress and anxiety, Paul Clark Services can finally see light at the end of the tunnel. We're not quite out of the dark yet, but there's definitely light ahead," he began.
"With buses across the UK parked up and normal PVRs (Peak Vehicle Requirements) a distant memory, maintaining buses the way operators traditionally had pre-Covid has become a thing of the past.
"PCS supports operators, manufacturers and suppliers with short and long-term engineering support to supplement their existing workforce. Fewer buses running meant fewer engineers required to maintain the fleets or carry out warranty and campaign work.
"Week 12 saw a downturn in demand for our services like we hadn't seen in the 24 years PCS has been in business. Going from 115 busy engineers to less than half over the course of a week was difficult to come to terms with. After 24 years of building things up, to have the weekly turnover reduced by over 50% was tough for everyone who relied on PCS for an income.
"On a good week PCS carries out around 6,500 hours' worth of engineering work per week. At its worst, around week 20 it was down to 2,900 hours. But we still felt fortunate; thanks to London operators still running buses and NHS ambulance workshops utilising our resources, we had work for around 50 engineers at least.
"Like most, PCS took advantage of the Government's Job Retention Scheme and furloughed some admin, management and employed engineers. The team not furloughed worked from home and collectively took responsibility for aspects of the business they weren't previously involved with.
"We took the decision to continue with our programme of investing in high voltage training for engineers and worked hard picking up new business, starting new contracts, and agreeing service level agreements with existing customers with a long-term goal.
"After around 13 weeks, things started to improve very slowly and demand for our services increased slightly.
"Now we are seeing more buses on the road and schools going back, and for the first time in 24 weeks, by 1 September we had over 100 engineers working once again supporting the bus industry and NHS ambulance maintenance facilities across the UK.
"After a management Microsoft Teams meeting on 1 September, you could sense conscious optimism that we were over the worst (at least for now). Thanks to the whole team at PCS and our loyal customers, we are confident we will be part of the bus industry for many years to come."