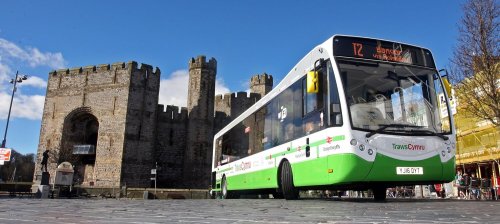 UrbanThings has partnered with the Welsh Government to provide multi-operator mobile ticketing with pre-booking and seat reservations on the TrawsCymru network across Wales.
UrbanThings will deploy 'Ticketless' on three of TrawsCymru's express network routes during October, with a second phase hoped to extend the solution to the entire network early next year.
Passengers will be able to purchase tickets via the TrawsCymru website or the new mobile app, pre-book the journey, reserve seats, and see real-time travel information. The app and accompanying website will be available in both English and Welsh.
TrawsCymru is a multi-operator network serving cities and towns across Wales and West England. UrbanThings will collate real-time information gathered from operators First Group, Stagecoach and Lloyds Coaches, and publish it within the passenger app. The platform will also show live vehicle capacity, a new feature from UrbanThings, to help manage social distancing following the Covid-19 pandemic.
Carl Partridge from UrbanThings said: "To restore confidence in public transport, it's essential that passengers can pre-book a journey with the guarantee of a seat in a safe environment.
"It's very exciting to be working directly with the Welsh Government on the TrawsCymru project. They require an integrated solution that can span multiple operators, and need it delivered within a tight timeframe.
"From October, their passengers will be able to buy tickets, reserve seats, see real-time travel information and live vehicle capacity, all in one place."