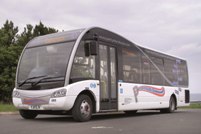 12 new Versas on order & new depot set to open in St Boswells Melrose
A dozen new Optare Versas are set to join the fleet of Berwick-upon- Tweed-based family-run coach and bus operator Perryman's after the firm won £10.4m worth of Scottish Borders Council (SBC) local bus service contracts.
Starting on August 12, the firm takes over the operation of four more routes. These include the route 20 Kelso-Hawick (Sundays), 51/52 Jedburgh/Kelso-Edinburgh, 60 Galashiels-Duns-Berwick and 68 Jedburgh-Galashiels. The operator also regained the 67 Galashiels- Kelso-Berwick service which it has run for the past five years. Some of the new services will run from a new depot at Mitchells Yard, Charlesfield.
Roddy Perryman, Operations Manager of Perryman's, told CBW: "We are currently recruiting in preparation for the opening of a central Borders depot in late July. We are in the process of securing a site in the St Boswells area.
"Around 20 jobs will be created, most of which will be involved in the running of our recentlyawarded SBC local bus services contracts."
However, Perryman's gain is Munro's loss. In January, Munro's had its O-licence revoked after it was found to have loaned discs to Jenkins Travel in 2011. While Munro's unsuccessfully appealed the decision, it has been awarded a new O-licence in a separate hearing. CBW understands the only routes Munro's have been left with, along with the 74 (Galashiels Circular), are the 54 (Galashiels local service) and 131 (Jedburgh – Newcastle) as these two weren't included in the tendering round.
First has also lost a route to Perryman's – the Galashiels to Berwick service 60.
Initially Perryman's had lost route 67 to Travelsure, but it has been given back to Perryman's.
The new 11.7m Versas will feature Cummins ISBe engines, Allison automatic transmission, Timespace V400 8 camera CCTV systems and Mobitec audio announcements linked to an interior LED display.
Perryman's has opted for two types of seating. Eight of the buses have Esteban Civic V3 seats and the other four are fitted with Rescroft seats with three-point seatbelts, enabling them to be used both on regular services and school contract runs.