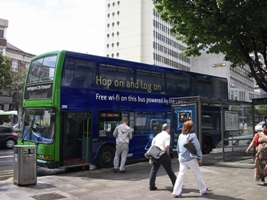 Wi-Fi has recently been launched onto some Nottingham City Transport-operated double deckers as part of The Capital One, Click Card national campaign.
Ratcliffe Fernley Media provided three double decker wraps in the centre ofNottingham, which houses Capital One's head offices, and the newly dressed buses were equipped with Wi-Fi, enabling free internet access for all passengers via Capital One's home page where details of their cards were featured and sign-up was accessible. Inside, all the Interior Headliner posters notified people of the service offered.
"This is a great example of how bus advertising can be used to generate an effective and valuable delivery of a campaign and brand message to a large audience in a non-invasive manner, a key component in an overall strategy for Capital One," said Lisa Ratcliffe, Ratcliffe Fernley media's managing director.