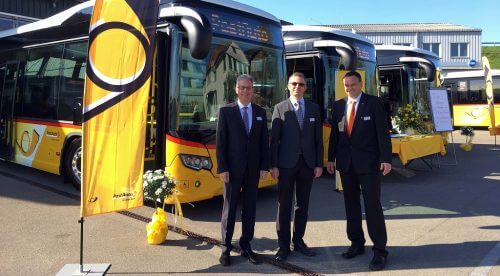 New hybrids are first Scanias of this configuration in Switzerland
SWITZERLAND PostAuto company Schwizer PAH GmbH in Goldach, has launched three new Scania Citywide K320 hybrids. The vehicles are the inaugural Scania hybrids for Switzerland and the first hybrid buses for the canton of St. Gallen.
Launched on April 10, following the completion of driver training, they have now entered service on PostAuto routes 240 (Rorschach-Goldach-St Gallen), 241 (Rorschacherberg-Goldach-St Gallen), 242 (Rheineck-Thal (Herisau-Hundwil-Stein AR-St Gallen) and 182 (Herisau-Waldstatt-Schönengrund-Brunnadern).
Claudio Albrecht from Scania Schweiz AG said: "Thanks to the powerful diesel engine, the vehicles have enough power, even when the battery is low, and are therefore suitable for urban, as well as for demanding interurban service. This gives PostAuto the freedom to use the vehicles without restrictions."
The new air-conditioned Citywides seat 34 passengers, with 34 standees. Onboard, they are equipped with WiFi and two information screens, helping to keep passengers informed about the progress of their journey, along with brief news highlights. Automatic passenger counting systems are also available in two of the three vehicles. They detect the number of people entering and exiting with light barriers.
The state-owned bus operator recently announced that passenger numbers rose from 145m in 2015 to 152m in 2016. The 2,274-strong bus fleet operated 117m scheduled km – up from 113m in 2015.