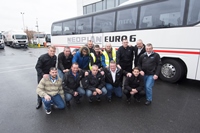 Eight operators from across the country gathered at MAN Truck & Bus UK in Manchester recently to take up the two-day maintenance course offered by the manufacturer to customers who purchase Neoplan Tourliner coaches.
MAN also offers customers is ProfiDrive, which involves the new coach and its driver being taught how to get the best from it and deliver serious benefits in terms of fuel consumption.
Both training packages can be booked at the time of the vehicle's purchase.
Led by Aftersales Specialists Pat Hogan and Steve Lilley, the maintenance training gives in-depth insight into best practices for repair and maintenance of the vehicles.
Pat explained: "We know that most operators run their own maintenance programmes – and we want to help them look after their vehicles correctly. We cover a broad spectrum of subjects from oil changes and coolants to where fuses are and some troubleshooting basics. We won't start pulling engines to bits, but we will give them an overview on what they must check and how often."
Graham Strachan, an engineer and driver from Simpson's in Aberdeenshire, said: "These training sessions are invaluable. We learn so much about the routine maintenance of the vehicles, but we also pick up information that can really be a 'get out of jail card' when we are out on the roads with customers.
"Vehicles are evolving so quickly these days that there is always something new to learn, but finding out where particular fuses are, for example for the doors, can save a whole lot of time and trouble if there is a minor problem when you are out on the road. These courses are very informative and I do enjoy them."
His employer, Ron Simpson, commented: "I can hear the enthusiasm the guys have for the course and what they have learned when I speak to them afterwards. I know they have absorbed all the information and that they will share it with their colleagues.
"It's great from my point of view too that if a driver calls to say he has a light on his dash I can ask the guys who have been on the course and they can offer advice.
"I first did the course in 2012 and found it very informative and that they provide a helpful insight into the products. It is also an eyeopener for the drivers as to how much the technology has evolved."
.