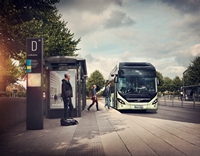 Turn-key solution is what wins TEC over to electric bus solution
BELGIUM Volvo has received an order for 11 electric hybrid buses and two electric bus chargers for the city of Namur in Belgium. The chargers will be supplied by ABB. It is the largest order to date for the company's electric bus system.
TEC which has five public transport companies in Wallonia, the French-speaking region of southern Belgium, is buying from Volvo because it can supply what is a turn-key solution. Volvo takes full responsibility for vehicle servicing, battery maintenance as well as maintenance of the standard-based charging stations for a fixed monthly cost. Entry into service of the buses is planned towards the end of 2016.
"Electric bus systems are the cost-efficient solutions for cities to reduce the problems of poor air quality and noise," said Håkan Agnevall, President Volvo Buses. "Together with ABB, Volvo has a complete and competitive offer for cities around the world that want to switch to a sustainable public transport system."
Vincent Peremans, CEO TEC Group, said: "Every year the TEC Group transports more than 250 million passengers. Our social responsibility lies in developing transport solutions that are sustainable. This is done especially by improving the energy performance of our vehicle fleet. The Volvo 7900 Electric Hybrid meets our ambition. Thanks to its silent operation the quality of life for the citizens of Namur will be improved."
Volvo's 7900 Electric Hybrid operates quietly and free of emissions on renewable electricity for approximately 7kms. The batteries are fast-charged in just a few minutes at the end stops and also by the energy generated whenever the vehicle brakes. As a complement, the buses also have a small diesel engine, which increases reach and flexibility.
Compared with conventional buses, the electric hybrids provide considerable environmental gains. The total energy consumption is said to be 60% lower compared to a Euro 6 bus on the same 10km route.