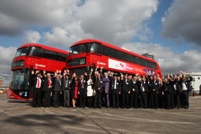 The annual industry competition boasts a diverse list of entrants, ranging from the independent to the municipal
The shortlist for the 2012 UK Bus Awards (UKBA) was announced at the Tubelines Auditorium in London's Canary Wharf on September 27, before an audience of around 100 representing shortlisted organisations, sponsors and other stakeholders. More than 90 people selected from 270 nominations go forward to the final judging and mystery traveller checks with winners being announced November 20 at the lunchtime awards ceremony held at the London Park Lane Hilton.
Go-Ahead Group tops the list with 20 places, followed by Stagecoach with 13 places, Arriva with 10 and FirstGroup with nine. Other groups, independents and municipal operators also feature strongly.
At the event, UKBA Director Chris Cheek spoke of the industry's role in the Olympics saying it showed "what good can look like." He was followed by Reading Buses CEO James Freeman and Chloe Leach- O'connel Head of Regional Marketing at Arriva Yorkshire and North East. Both were keen to stress the importance of the positive publicity gained from the awards and encouraged nominees to share the news of their successes.
Two attending NBfL provided transport throughout the day. Asked how this had been organised, recently appointed UKBA Director of Communications Trevor Whelan replied: "with friends in high places."
The coveted UK Bus Operator of the Year, sponsored by Belmont International and QBE Insurance, is chosen from the winners of the Top City, Top Shire and Top Independent categories and will be announced alongside the winners of The Local Authority Project of the Year and the Award for Services to the Bus Industry at the ceremony.
In addition the Transport Hero Award for the 2012 Games has been introduced this year and nominations for this award close on October 5 following the completion of the Games contracts. A shortlist will be announced later this month.
UK Bus Awards 2012 Shortlist
OPERATING AWARDS
Top Express Operation, sponsored by Volvo Bus
Arriva the Shires – Green Line 757
Oxford Bus Company – the airline
Scottish Citylink – Express Service Network
Stagecoach East Scotland – Express City Connect
Top National Bus Depot, sponsored by Personal Group
Burnley, Transdev Blazefield
Crawley, Metrobus
Huddersfield, First West Yorkshire
Speke, Arriva North West
Top City Operator, sponsored by BAE Systems
Go North East
Nottingham City Transport
Stagecoach Manchester
Stagecoach Sheffield
Transdev Keighley & District
Top Shire Operator, sponsored by Ticketer
Bluestar
Metrobus
Oxford Bus Company
Reading Buses
Stagecoach South West
Thamesdown Transport
Transdev Burnley & Pendle
Top Independent Operator, sponsored by Scania
DRM of Bromyard
Ensignbus, Thurrock
Ipswich Buses
Newport Transport
Perrymans, Berwick-upon-Tweed
TECHNICAL & PROFESSIONAL AWARDS
Environment Award, sponsored by Heathrow Airport
First Group – Small Changes, Big Difference
Reading Buses – Hybrid Power
Stagecoach East Midlands – Lincoln BioBuses
Stagecoach South West – Green Champions
Volvo Buses – The Volvo Hybrid Bus
Innovation Award, sponsored by Alexander Dennis
Go-Ahead Group/Go North East – The Key Lifestyle
Oxfordshire County Council, Oxford Bus Company and Stagecoach Oxford – Oxford SmartZone
Newport Transport – Unigo
Translink – Safety Bus
Stagecoach Group/Scottish Citylink – Megabus Sleeper Service
West Yorkshire ITA (Metro) – Metroville
The Claudia Flanders Memorial Award for Putting Passengers First
Go North East – Moving with our People
Transdev York – York Unibus, A Partnership for Progress
Stephensons of Essex – Breeze
Konectbus – Konectexpress 8
Making Buses A Better Choice: the Peter Huntley Memorial Award, sponsored by The TAS Partnership
Go-Ahead Group – The Key ITSO Smartcard
First Hampshire & Dorset with Hampshire CC – Eclipse
First Bristol and Partners – Greater Bristol Bus Network
Nottingham City Transport – Social Media & Technology
Stagecoach East – The Busway
TrentBarton – rapid 1, the car users' choice
The Eureka! Award for Marketing Initiatives, sponsored by CBS Outdoor
Arriva Yorkshire – We are Yorkshire
Bluestar – The Smarter Way to Pay – The Key
Ensign Bus Company & First Essex Buses – CollegeBUS
Go North East – Maximising the Benefits of Social Networking
Reading Buses – Jet Black is the New Black
Translink – Metro Smart Saturdays
The Marketing Excellence Award
Trent Barton – MANGO-no cash, no fuss, no brainer
Metrobus – Horsham – Getting the Basics Right
Go North East – The Key
Reays Coaches – Hopping Mad
Arriva the Shires – Green Line 757
The Bus and the Community Award
Arriva the Shires – Keech Hospice
First UK Bus North Region – Charity in the Community
First Cymru – A Bus Company Working with its Local Community
First London – Greenford Library Bus
Network Warrington – Supporting the Community
AWARDS FOR INDUSTRY PEOPLE
The Young Manager of the Year Award, sponsored by the Chartered Institute of Logistics and Transport
Jeff Clayton (First Manchester)
Tom Morgan (TrentBarton)
Selina Pipe (Arriva Midlands)
Vicky Tomlinson (First West Yorkshire)
The Unsung Heroes Award, sponsored by Backhouse Jones
Ron Hayes (Brighton & Hove)
Patrick Hughes (National Express West Midlands)
Andrew Howard-Smith (Stagecoach Manchester)
Dennis Tomlinson (Transdev Burnley & Pendle)
The Chris Moyes Memorial Award for Top National Bus Driver, sponsored by Adelaide Insurance
Elaine Allitt (TrentBarton)
Ian Fraser (Stagecoach East Scotland)
Allan Gilmour (TrentBarton)
Sharon Harry (Oxford Bus)
Vanessa Knowling (Yellow Buses Bournemouth)
John Russell (Metrobus)
Mick Silverwood (Transdev Keighley & District)
Matthew Stacey (Cardiff Bus)
The Engineer of the Year Award
Mike Butt (Stagecoach West)
Russell Cato (Arriva the Shires)
John Trubshaw (Arriva Midlands)
Cliff Ward (Arriva the Shires)
Andrew Wilson (First Manchester)
LONDON AWARDS
TfL Award for London Bus Garage of the Year
Barking, Stagecoach East London
Cricklewood, Metroline
Merton, London General
Orpington, Metrobus
Putney, London General
Luke Rees-Pulley Charitable Trust Award for Top London Bus Driver
Peter Bennett, Arriva London
Rui Branco, Abellio London
Scott Horney, Go-Ahead London
Roy Lambe, Go-Ahead London
Angela Spragg, Quality Line
Kamya Ssemakadde, London United
Peter Varley, Stagecoach London
Warren Wills, London United