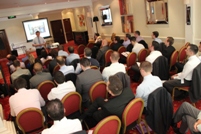 The conference's speakers include Nigel Featham, Les Burton and Alex Warner
The date is set for the next Young Bus Managers Network conference – October 23-24 in Manchester at the Mercure Piccadilly.
The conference is welcoming a wide variety of speakers. Nigel Featham from Arriva tells us about the improvements in the firm's operations in Yorkshire and the North East, and the Sapphire project.
Meanwhile, local career busman Les Burton, who has just retired from his role of Operations Director at Stagecoach Merseyside & South Lancashire after 47 years' service, gives his interesting story from the many years on the buses in Manchester and Merseyside from being under public control to private ownership, and under the umbrella of Stagecoach. Les has been through many varied experiences in one of the biggest bus markets in the UK and tells it as it is – making for a stimulating presentation.
Ian Jones and James Backhouse of specialist transport lawyers Backhouse Jones will present an informal, best practice session on all things 'legal.' It promises to offer delegates many lessons to take back to their operations.
And, back by popular demand, is customer service guru Alex Warner. A past business leader across bus, train, air and now working in the logistics sector, Alex is passionate about seeing improvements in how operators deal with customers and improve aspects of services for greater success.
The workshop session also makes a return.
The conference begins at 1800hrs on October 23, with a quick trip on Manchester's buses and a visit to the city's famous Curry Mile for the evening gettogether. The meal and travel are included in the price of the conference. The conferences aims to be completed before 1500hrs on October 24.
Booking is open now, priced at £167 per person, which includes overnight accommodation and food & refreshments throughout the conference. The conference asks interested parties to book sooner rather than later, as low initial bookings at the last conference almost saw it cancelled. Lastminute bookings are also difficult because hotel rooms are at a premium in central Manchester when European football is on.
For bookings visit www.youngbusmanagers.org.uk