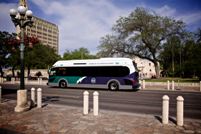 USA Electric bus manufacturer Proterra Inc. says it has more than doubled in size over the past nine months, adding a second production line and shift and increasing its number of employees by more than 50%. The company believes this rapid growth is due to strong interest in lower total cost of ownership clean energy buses.
Proterra has also made significant infrastructure investments in the past year to prepare for future growth and to expand beyond its current U.S. transit agency customer base and commercial operators.
Additionally, the company has indulged in strategic investment through recruiting some top national talent to its management team. In the past 15 months, Proterra has hired executives from transport agencies such as: Chicago Transit Authority; Star Metro; Honeywell; Navistar; Cessna; and Hawker Beechcraft.
"As the manufacturer of the only Altoona-tested and roadproven EV bus on the market, Proterra is very well-positioned to capitalise on growing market demand for fuel-efficient and costsaving transportation solutions," said Christina Rever, Director of Human Resources at Proterra. "While we are proud our growth is based on a track record of solid performance, we are even more pleased our American-made buses are contributing to US energy independence and economic growth."
The company's most recent hires include Vice President of Marketing Heidi McNary, General Counsel Eric McCarthy and Vice President of Operations Jim Gibbs.
As VP of marketing, McNary provides nearly 20 years of experience in a variety of technology, marketing, managerial and executive roles. Prior to joining Proterra, McNary spent several years as the VP of product development and engineering and as Chief Technical Officer for Hawker Beechcraft. In thirteen years with Honeywell Aerospace, she held marketing and strategy roles in the U.S. and Singapore before becoming Executive VP of sales and marketing and COO for DeCrane Aerospace in Arizona.
McCarthy brings 17-plus years of litigation, general counsel and executive leadership experience to Proterra. He served most recently as EVP and general counsel for Seneca One Finance Inc. Previously, McCarthy was the general counsel for Honeywell Technology Solutions, Inc. Prior to joining Honeywell's Aerospace business unit, he was an antitrust trial litigator, and was a partner in the Antitrust & Competition practice groups of Latham & Watkins LLP and Howrey.
In his role as VP of operations, Gibbs will draw upon his previous roles in supply chain, logistics, and manufacturing management. Before joining Proterra, Gibbs was most recently vice president of supply chain for Tomkins Industrial & Automotive in Colorado. He also served as vice president, integrated supply chain for multiple divisions of Honeywell Aerospace in Arizona, Florida and Kansas. Before joining Honeywell, Gibbs served as Plant Manager for Eaton Navy Controls Division in Wisconsin, and has held other engineering, operations and manufacturing positions.