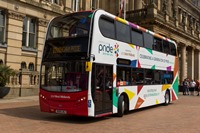 NXWM has been running a specially-wrapped ADL Enviro400 H45/32F (fleet number 4853) on Birmingham routes for a month to celebrate the city's 20th Pride festival.
The livery was designed by Bashir Khan from the National Express marketing team, and was based on the official Birmingham Pride 2016 logo. The vehicle was wrapped on April 28 and has been mainly running on the 33 route which covers Pheasy – Kingstanding – Perry Barr – Birmingham City Centre.
On May 28, it took its place in the Birmingham Pride parade, where more than 40,000 people saw the bus going through the city centre. The bus will be stripped later this week and sprayed into new National Express Crimson livery.
Lawrence Barton, Pride Director, said: "We're excited about Birmingham Pride in this, our 20th year. To celebrate this milestone, we're delighted our friends at National Express have kindly wrapped one of their buses in Birmingham Pride livery for us!"
Madi Pilgrim, HR Director, National Express UK Bus said: "We are really proud to have such a diverse workforce at National Express and so are delighted to celebrate 20 years of Pride with our specially wrapped bus. We hope it encourages more people to consider joining our team."