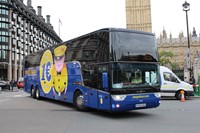 Regional and London bus operations see operating profits fall, but rail profits more than triple
Stagecoach has revealed interim financial results for the six months ended October 31.
Revenue was up considerably at £1.97bn (2014: £1.545bn), with total operating profit increasing from £123.5m in 2014 to £137.2m this year.
Profit before taxation was down at £90.8m (2014: £98.3m). However, once adjusted for intangible asset expenses and exceptional items, it stood at £121.5m against a previous £108.6m. There was a similar story with the group's earnings per share, which was down 1.1p at 12.8p, but showed an increase of 1.9p to 17.0p (12.6%) once adjusted. Interim dividend per share was up 9.4% at 3.5p (2014: 3.2p).
The UK Bus division saw operating profit down 18.9% at £62.7m. Much of this was attributed to the rapidly expanding megabus.com inter-city coach business in continental Europe, which was included in the figures and made an operating loss of £9.2m but revenue growth of 36.1%.
In London, revenue was up 1.4% at £133.1m, though operating profit was down marginally at £10.0m (2014: £10.2m). The group said traffic disruption and ongoing roadworks continued to affect quality incentive income, but the business was still performing well.
The group's growth over the six months was largely driven by rail, with revenue up 63.1% at £1,083.2m and operating profit up 204.2% at £43.8m. Operating margin also increase from 2.2% to 4.0%.
Stagecoach Chief Executive Officer, Martin Griffiths, said: "These are a good set of results with overall earnings per share in line with expectations.
"We have continued to invest in making travel better and easier for our customers. Public transport is a shared responsibility between the public and private sectors. It is crucial that the investment of transport operators is matched by steps by the public sector to tackle the growing challenge of road congestion, which is holding back the potential of the bus.
"At the same time, shrinking public investment in local transport can impact on the cost of travel and the network of services. We look for efficiencies within our own businesses to protect our customers as far as we can from any impact of Government cuts.
"Our bus passengers in the UK are now benefitting from our new UK Bus website, which enables them to check live running times for their bus services and purchase travel on their smart phones. In 2016, we will also introduce a new mobile bus app. In addition, we are on track to complete delivery of smart multi-operator bus ticketing in England's main city regions within the next few weeks.
"Our rail businesses have demonstrated the benefits of a commercially-led approach, with passenger revenue growth and ongoing investment in improved facilities and better information for customers. We are working closely with Government and Network Rail to deliver new trains, greater capacity and more train services.
"In North America, we have taken steps to mitigate the impact of lower motoring costs on demand for our megabus.com inter-city coach services by better matching the level of vehicle mileage to current demand. The rest of the North America Division is performing in line with our expectations.
"Overall, the Group is in good financial shape and we were pleased to have put new bond financing arrangements in place earlier this year. Challenges remain in our sector in the short-term but the underlying strength of our businesses across the UK, continental Europe and North America means we are well placed to drive value for our customers and investors."