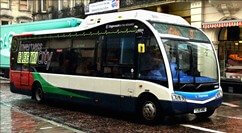 Stagecoach has become the first UK bus operator to implement a modification to its electric vehicles which allows them to run for longer in between charging sessions.
The company – which operates six Optare Solo electric vehicles in Inverness – has worked with the manufacturer to extend the battery range of the vehicles so they can now cover up to 130 miles before needing to be charged, compared to the previous range of up to 95 miles.
The buses, which were launched last year, also feature electric heating, chosen because it is a more environmentally-friendly option than diesel heaters.
The vehicles' extended range means each bus can complete a full day of service before requiring charging.
Sam Greer, Stagecoach UK Bus Engineering Director, commented: "Sustainability is at the heart of our business and we have worked with Optare to develop a fleet of vehicles that is emissions free and now even more efficient, as well as providing improved comfort for passengers and reduced vehicle noise. Importantly, these buses will help further improve air quality for the people of Inverness."
Robert Drewery, Commercial Director, Optare, said, "We are extremely pleased with this series of innovative firsts.
"Already the UK's most efficient electric bus in terms of kWh per mile, these six extended range fully electric buses are the first to go into operation and are also the first of their kind with electric heating."