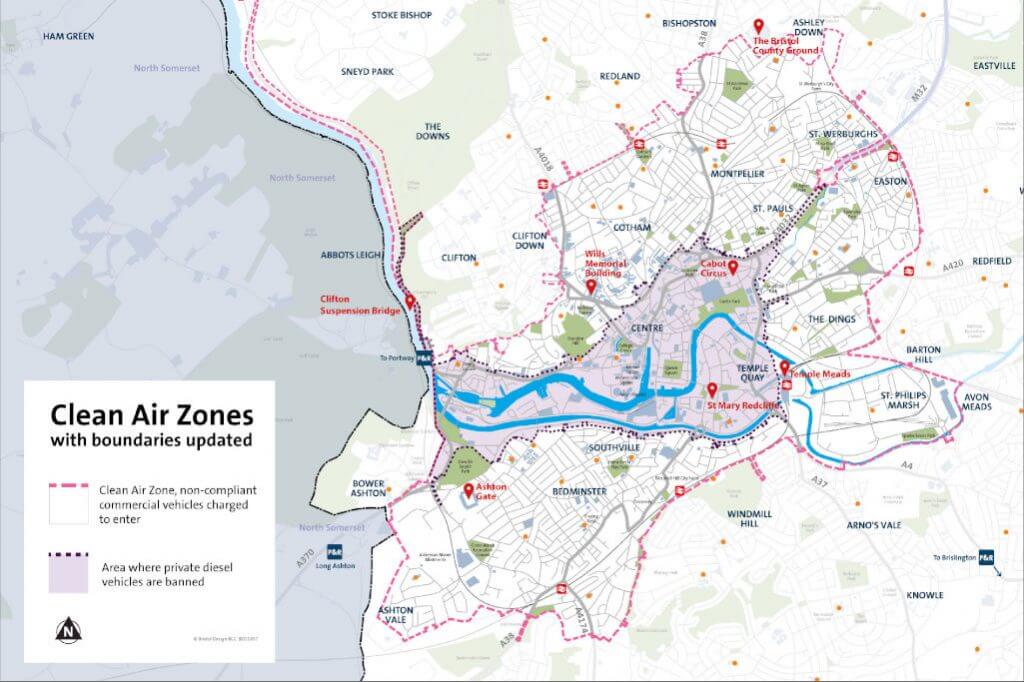 Politicians, members of the public and motor industry representatives have spoken out against Bristol's plans for a clean air zone, the Bristol Post reported. Bristol City Council has proposed an inner-city diesel car ban and wider clean air zone to reduce the city's air pollution levels. The plans, which were unveiled on Monday 28 October, have attracted widespread criticism from locals who say the proposals will adversely affect residents, businesses and hospital visitors.
The proposed ban would operate from 0700-1300hrs and apply to all diesel vehicles – except buses, taxis and emergency service vehicles – regardless of their emissions output. The surrounding clean air zone (CAZ) would see older, more polluting commercial vehicles – but not privately owned cars – charged a fee to enter.
Some have welcomed the proposals, but critics say the plans would simply push air pollution into the suburbs and shift the morning and evening rush hour to either side of the diesel ban operating hours, whilst others have suggested that the need for drivers to switch to non-diesel, low-emission vehicles will simply be unaffordable for many. Some members of the public left comments online saying they will have to give up their jobs or stop shopping in Bristol, said the newspaper.
Head of Roads Policy Nicholas Lyes said: "Major routes into, out of, and even around the city would become out of bounds, with diesel vehicles forced onto other roads, which risks causing congestion problems where they don't exist at the moment.
"The devil will be in the detail, but we are concerned that a scrappage scheme would not prove effective in getting people into cleaner cars, since such schemes are designed to get people into brand-new – and still more costly – vehicles," he continued.
Mike Hawes, Chief Executive of the Society of Motor Manufacturers and Traders (SMMT), said: "Industry wants to see all cities, including Bristol, meet their targets and continues to invest in ever more advanced technology to help improve our environment. However, this proposed blanket ban, which goes against government's guidelines, fails to distinguish between modern vehicles and decades-old technologies and will only cause confusion for drivers while also undermining efforts to boost air quality.
"Instead, we need a clear and consistent national approach to clean air zones that incentivises uptake of the latest, low emission vehicles, including new Euro VI diesels, which are the cleanest ever produced, alongside improvements to traffic flow and investment in charging infrastructure."
ClientEarth clean air lawyer Katie Nield offered another view: "It is not right that people in Bristol will have to wait until 2025 to breathe cleaner air when cities across the country are doing it much sooner. Following our legal challenge against the UK Government, the High Court was clear: air quality plans have to do everything possible to protect people's health from illegal levels of air pollution. The UK government, the Mayor and the City Council must start putting people's health first."