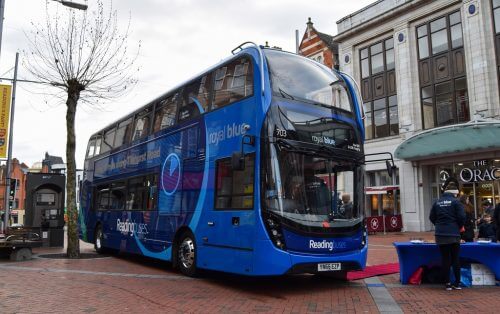 Five new vehicles, which the operator is calling a world first, join the extensive existing fleet of 37 single-decker gas buses
Reading Buses has launched its fleet of five Alexander Dennis Ltd (ADL) Enviro400 MMC Euro 6 gas buses, which the operator claims are the first vehicles of their kind in the world.
Launched on January 14, the vehicles will operate on the firm's Royal Blue number 33 service, which runs at a frequency up to every 10 minutes. A promotional bus was on Broad Street in Reading from 1000hrs on Saturday to promote vehicles.
eading Buses CEO, Martijn Gilbert, said: "We are really excited and proud to be launching the world's first Euro 6 double-decker buses that run on compressed natural gas (CNG).
"We have worked closely with the manufacturers in pioneering the introduction of the first modern era gas double-decker buses anywhere in the world.
"Scania has had to think 'outside the box' to ensure the storage of gas is safe without impacting on customer capacity on-board. This sees tanks installed under the staircase and under the rear seats, instead of in the familiar roof pod used on the single-decker which the company was the first to introduce back in 2013.
"The company is confident that these new buses will help refresh and enhance the Royal Blue route and further improve the industry leading environmental credentials of Reading's bus fleet."
The double-deckers join 37 single-decker CNG-powered buses currently owned by Reading Buses.
Inside, the buses are equipped with high-back seating trimmed in the company's latest flat cloth design, free superfast 4G WiFi, USB charging points at-seat, a table area upstairs with a wireless 'aircharge' mobile and tablet charging pad and other standard Reading Buses features such as wood effect flooring and next-stop audio and visual announcements.
The buses will also feature two wheelchair bays, allowing two wheelchair users to travel together. The company said this is a pioneering trial of this facility on a British local bus service and the company will be monitoring the feature with interest to consider its roll out on future new vehicle orders.