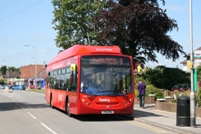 It is now four months since the first 11 gas buses entered service with Reading Buses on Reading Borough Council's greenwave routes, and three months since the rest of the gas bus fleet of 20 vehicles have been in service on scarlet 9 and bronze 11.
"They have been operating faultlessly," reported James Freeman, CEO of Reading Buses.
"It makes a pleasant change when a fleet of new buses works within the box and it's even better when those new buses incorporate a brand new technology.
"Scania told us the gas buses would be easy to operate with fewer than 40 parts different from the standard diesel version and we are really delighted with their performance to date.
"The careful work put in by body builders ADL into the detailed design of some of the features, especially the arrangement of the driver's cab and entrance, has been welcomed by drivers."
James Freeman added that until now the gas used by the buses has been brought to Reading by tanker, but within a few weeks a gas compression station will be in operation, eliminating the need for tankers.
He continued: "Reading Buses buys certificated bio methane which is injected into the mains elsewhere and the gas we use is drawn from the grid which provides us with a more local supply.
"The gas buses are cleaner and smoother and cheaper to run.
"Another 14 similar vehicles are on order for delivery in March 2014. This will bring the proportion of green buses, both electric hybrid and diesel, to almost half the Reading Buses fleet which must make it one of the greenest fleets in the country."