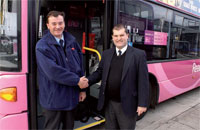 It was getting dark when experienced bus driver Steve Choules, 52, drew up at a bus stop in Elm Lane, Reading, on his 21 route.
A male passenger at the stop asked for Mayfair which wasn't on the 21 route between Reading and Lower Earley.
Steve, who has been a driver for 23 years, recognised the young man as a customer on a different route, who he usually saw with a carer.
"He said he didn't have any money and had lost his bag – he was very, very confused," said Steve. "I was seriously concerned about his safety as he was clearly lost and without his carer."
Out of earshot of the man, Steve diplomatically called his traffic office.
"I asked for someone to meet me at Broad Street Mall to put the passenger on the right bus and look after him. We subsequently learned he had got home safely.
"He must have got on the wrong bus to end up in Elm Lane and his safety was my prime concern.
"I am just relieved the incident had a happy ending."
Steve was nominated by Reading Buses' driver performance manager Sharon Harris for a special award at the company's annual awards.
Sharon said: "Steve was our hero of the hour."