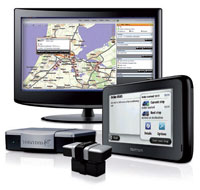 The highly competitive nature of coach and bus services, combined with the industry' tight margins, has put companies under increasing pressure to scrutinise their operational performance.
Vehicle tracking and navigation technology systems offer one of most logical options for maximizing efficiency and reliability. These systems have evolved over recent years to become extremely sophisticated management tools, helping to drive down costs and boost quality of service.
In their early guises, telematics systems did little more than relay positional data back to the central office PC. For many organisations, the 'fleet visibility' provided by track and trace information still proves to be the most valuable, albeit that the accuracy and ways in which it is relayed has become increasingly advanced.
It is vital that bus and coach companies, for example, ensure their drivers are keeping to the schedules upon which passengers depend.
TomTom Business Solutions' WORKsmart™-Track is the latest incarnation of a relatively simple system, which incorporates LINK 300 tracking units in company vehicles. These combine with the web-based fleet management software system, TomTom WEBFLEET, which lets managers see at a glance who is on the move, where they are, where they're heading and at what speed they're travelling.
The ability to monitor speed, in real time and via a range of management reporting options, brings with it considerable fuel cost savings and passenger safety benefits.
For one TomTom Business Solutions adopter, bus and coach company Richards Bros, late running has been virtually eliminated and customer complaints have fallen dramatically since using the system.
If and when complaints do arise, a vehicle tracking system will generate evidence to refute bogus claims because the company in question can quickly determine the exact time a bus reached a pick-up point on its route.
For companies that don't run regular routes, integrating a personal navigation device into a vehicle tracking system transforms operational possibilities.
The navigation device with truck attributes is an obvious boon for drivers, and typically reduces journey times in unfamiliar areas by 10%. This is further enhanced by live HD traffic information being relayed automatically to drivers in real time en-route as the situation in front changes, enabling them to negotiate around congested areas and increase time savings by 15%.
When connected to a broader vehicle tracking system a wealth of additional functionality becomes available to management, which as well as live and historic reporting includes two-way messaging and job management.
The wealth of functions and information that can now be generated from the latest technologies are remarkably extensive, and these have an impact on efficiencies in many departments across the business as solutions are increasingly being tailored to meet specific business requirements.
TomTom's WORKsmart™– eco solution, for example, is the latest innovation to help businesses promote greener, safer and more efficient drivers. This includes integration with an on-board diagnostics system that enables managers to measure and reduce fuel costs and carbon footprint by monitoring live data direct from vehicles and an easy to read format.