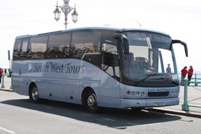 South West Coaches is adopting a state-of-the-art fleet management system after looking to reduce fuel costs and improve driver efficiency.
The operator is using TomTom Business Solutions' tracking and Remote LINK Working Time system to better manage its vehicles and boost its green credentials.
"We invested in the TomTom system having been convinced it could cut our fuel consumption and help monitor and improve driver behaviour," said Peter Fairey, South West Coaches' Operations Director. "We're impressed by the support we've received from TomTom's local partner, Fleetview Solutions and look forward to working closely with them in the months ahead."
Giles Margerison, TomTom Business Solutions' Director, added: "We are delighted such a long standing firm has recognised the gains our technology can deliver."
The Remote LINK Working Time device identifies the driver and enables employees to register working times while out on the road, producing a real-time record, reducing admin and costs.
TomTom Business Solutions specialises in fleet management and professional telematics services. Its online platform, WEBFLEET, is highly scalable and incorporates high reliability and security standards.
For further details, visit www.tomtom.com/business or Twitter @TomTomCorporate