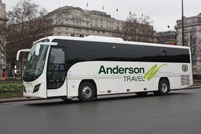 The Anderson Travel Group has rebranded as Anderson Travel uniting Anderson Travel (coach hire), Anderson Tours, London Transfers 4 U, Off the Beaten Track and Out There Excursions under one unified brand.
The firm has also invested £3.5m in vehicles and driver uniforms.
In addition, two new staff – Marketing and Sales Manager in the Tours department Carly Eden and administration and compliance officer George Aylott – have been appointed.
Mark Anderson said: "What better way to mark our 25th anniversary than unifying our brands coupled with an investment programme that will make a big difference to the passengers travelling on our coaches.
"We believe it's this type of investment, along with our customer service, that has kept us leading the way in coach travel for so long."