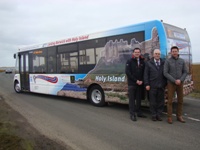 The Holy Island Partnership is providing additional bus journeys over the Easter holidays to the Holy Island of Lindisfarne. The 477 service runs from Berwick Railway Station to Prior Lane and operates on a branded bus depicting iconic landmarks on the island. As well as the Monday, Wednesday and Saturday journeys, services also ran on Good Friday and Easter Monday, and will run on April 5, April 8 and April 12. Single tickets are priced at £4.00 while a return is £7.60.
A number of businesses on the island are offering discounts on the day of travel. This includes English Heritage and Lindisfarne Heritage Centre who are offering 25% off an adult ticket and Pilgrims Café who are offering 10% off food and drink.
Working in collaboration with the Northumberland Coast Area of Outstanding Natural Beauty, Northumberland County Council and Perryman's Buses, David Suggett, Holy Island Partnership Development Officer, stated: "The additional services will offer choice and flexibility to visitors and the local community and a branded bus will help to continually publicise Holy Island throughout the year."
Roddy Perryman added: "We're hoping the eye catching vehicle branding on our 477 bus along with the additional journeys over the Easter period helps generate more visitors to the island".
Charles Baker-Cresswell, NAONB Partnership Chairman said: "This service is so important for the area that the AONB Sustainable Development Fund supported the new branding of the bus which is especially poignant during this special Lindisfarne Gospel year."
Barry Rowland, Interim Corporate Director of Local services at Northumberland County Council also said: "Service 477 is an important link for both the community and visitors wanting to experience the island. The Council is pleased to be supporting the service."
For further details visit www.holyislandpartnership.org