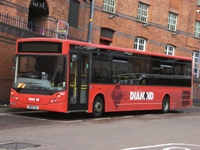 Two former Diamond Bus drivers may receive thousands of pounds from another operator, Solihull Travel Ltd of Birmingham, despite never having worked for them – the Redditch Advertiser reported.
Robert Hillman and Steven Smith were both employed by Diamond Bus as drivers on three service contracts with Worcestershire County Council, a Birmingham employment tribunal was told.
However, the council axed the contracts and Messrs Hillman and Smith lost their jobs – prompting claims for unfair dismissal, redundancy money and holiday and notice pay against Diamond Bus.
Matt Abdullah, representing both claimants, said the contract for the three bus services had since been taken over by Solihull Travel Ltd of Birmingham and no one seemed to accept responsibility for paying the compensation. One of the bus routes affected was the 178.
Mr Garry Smart, representing Diamond Bus, told the tribunal the respondents, Diamond Bus, were not responsible for paying the compensation because operation of the contract had been taken over.
Tribunal judge Mr John Keith agreed and dismissed Diamond Bus from the claim, saying Solihull Travel Ltd was liable because they had taken over the contract. As a result, he ordered Solihull Travel to attend a tribunal hearing later this year as respondents. In addition, he said the possibility of Mr Hillman and Mr Smith being reinstated as drivers might be considered at the next hearing as an option to compensation.
Mr Hillman had been a driver for Diamond Bus for four years but has now retired at the age of 65, while Mr Smith had been employed by Diamond Bus for seven years and is now a driver for a delivery firm.