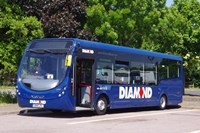 Rotala-owned operator drops school services, restructures fares and invests in StreetLites after consultation
Diamond Bus has held a consultation over several months with bus users and a variety of other interested parties in Redditch, with the objective of identifying the requirements of the Redditch travelling public.
The Rotala-owned operator said the consultations have produced two key requests: first for an improved vehicle fleet, and second for a review of service frequencies.
A spokesman said: "Up until now our approach has been to match demand against frequency on the existing bus network but not to change the bus network as a whole.
"However the recent consultation feedback has highlighted the desire for further investment and frequency increases on certain core services.
"In order to deliver the desired enhanced frequencies and invest in new vehicles, we need to rebalance the fare structure, and remove some services which are heavily loss making. This will affect some school services. In the Worcestershire area, there is no government subsidy towards child fares.
"We have continued to run certain services to schools where the child fares being charged fall well short of the costs of running those services. We have also this year suffered unacceptable levels of damage to vehicles operating on some school services.
"We have decided that, given the demand from bus users for an improved vehicle fleet, we cannot any longer subsidise these services ourselves. Worcestershire County Council and the schools affected have already been informed of these decisions. We are aiming to make these service changes effective from 11th March 2016."
On fares, the statement continued: "Since 2010 government has substantially reduced its support for bus services, but operating costs continue to rise and new regulation is to be introduced. At the same time we wish to meet the desire of bus users for a modern bus fleet.
"The new fare structure therefore does increase some fares, though there are also fare reductions, for example the removal of the 'Extra' supplement. We believe that the new fares structure still represents extremely good value for money and remains significantly cheaper than fares in nearby Birmingham.
"These planned changes will enable us to focus on the core network of bus services in Redditch and invest for the long term. To that end we are progressively introducing a fleet of eight new Wrights StreetLite Micro-Hybrid buses on the Redditch Town Services.
"These are large, high-capacity single-decker buses, four of which are already in service. The other four vehicles will be introduced in March, representing a total new investment of over £1m in our Redditch business."