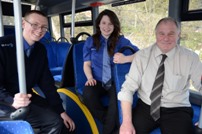 Scheme is first bus driver apprenticeship programme from a Go-Ahead Group-owned company
Two 17-year-olds from Hampshire have become the first to join Bluestar's new Bus Driver Apprenticeship Scheme.
Leanne Slatford, educated at Henry Box school in Oxford, and Andrew Fitzgerald from Kings School in Winchester, have joined the three-year apprenticeship, run in conjunction with S & B Automotive Academy in Bristol, which will cover all aspects of the business, including engineering, commercial, service delivery, marketing, customer care and, ultimately, driving duties.
After completed the scheme they will join the team of 261 Bluestar and Uni-Link bus drivers.
Steve Prewett, Area Engineering Manager, who has worked closely with the academy to develop the training plan, explained that unlike other European countries, a bus driver apprentice scheme is rare in the UK, with this being the first within the Go-Ahead Group-owned bus and coach companies.
"Its aim is to recruit, develop and train young adults to professional driver status over a three-year period," Steve said. "Leanne and Andrew will have a great start to their career in the industry through the development and training plan specifically drawn up to meet the challenging rationale to become a successful and professional PCV driver."
The role of a driver has changed over the past decade as the job focus has shifted to people and customer care. The course will focus on the development of customer service skills alongside safe and fuel efficient driving skills. The company hopes that by the apprentices having a full understanding of the whole business they will provide a higher standard of service to customers.
Bluestar also funds four engineering apprenticeships each year within their Barton Park depot at Eastleigh.