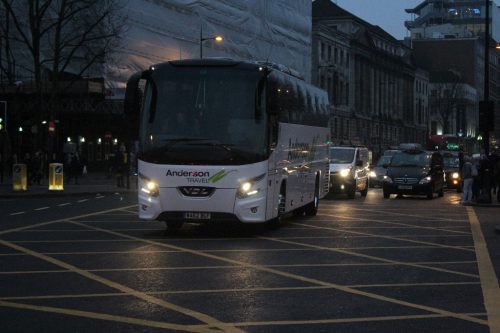 Results based on the views of more than 25,000 people, including 20% who are non-coach travellers
Once you're a coach traveller you're hooked to stay a coach traveller – that's according to the result of a survey commissioned by the Coach Tourism Association (CTA), formerly the Coach Tourism Council. 92% of existing coach travellers say they will continue to book coach tours over the next five years.
Even people who have never been on a coach tour are keen to do so – from a poll of 5,870 – 43% of all ages said they were likely to consider booking a coach holiday in the next five years.
Those were just two of the findings in the first ever nationwide CTA Coach Tourism Survey based on the views of more than 25,000 people, including 20% who are non-coach travellers. The survey was sent to their customers by more than 20 CTA coach tour operator members, and it was also distributed to readers of magazines such as Choice and Mature Times, Silver Travel Advisor. In addition Visit Kent, Bournemouth Tourism and CalMac Ferries issued it to their web users.
Further details were revealed by Peter Stratton, MD of tour wholesaler ICT (Independent Coach Travel), when he spoke to delegates at the recent 2017 Coach Holiday Conference.
He said the response rate of around 6% was significantly higher than the usual return for surveys of this kind, which were between 1 and 2%. Around 65% of recipients were aged 55 to 74, reflecting the core coach tourism market, while around 10% were aged 45 to 54.
80% had taken a coach holiday during the last five years, leaving 20% who had not. Of those who hadn't, the perception was positive in several areas, he said. They like coach tours for offering value for money, taking the hassle out of travel, being comfortable, sociable and safe. A significant minority even agree that coaches are a luxury form of travel.
"The survey also reveals what is termed as the 'Net Promoter Score' which evaluates perceptions among coach passengers. This came out at a creditable 27 – the same as hotels and various High Street brands – but it could be higher," said Peter.
"Interestingly those aged 45-64 gave a higher score of 31. While there are a lot of 'Promoters,' there are also a high number of 'Passives' – especially a lot of people in the mature age bracket – who just aren't enthusiastic enough about the concept to recommend coach travel, yet they themselves love travelling by coach."
Summing up, Peter said it was important for operators to look at what they do and identifying ways to do it better: "We're all familiar with the often negative view that coach holidays are for older people – but what's clear from the figures is that far from being a negative, it's actually a positive. What's also clear is that with the growth in the number of older people, the market opportunities are there for the taking.
"The key benefits of coach holidays identified in this survey: good value; sociable; comfortable; safe; and less hassle than air travel, are likely to prove even more attractive. However, this new so-called baby boomer generation have higher expectations. To capture this new business, the product needs to improve."