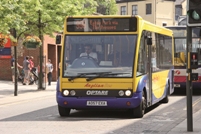 Popular Anglian Bus driver Martin Harvey, 64, was given a special sending off on Wednesday (October 26). TheNorwichbus driver from Worlingham had announced his retirement after seven years on the number 1 service.
Passengers came out in force to flag Martin's Optare Solo down outside the Rockland St Mary's post office at 0935hrs. He was handed a £150 collection and a card made by a student and signed by passengers, along with a home-made cake.
One memorable message read: "You deserve your rest after learning all our names." Other messages in the card were written by French and Spanish passengers, who Martin would greet in their native language.
Passengers said they were always astounded by how Martin would consistently remember names and often remembered the exams the students on his bus were taking, always asking if the right questions came up. He would wait if he saw someone approaching the stop and always allowed passengers to sit down before departing.
Andrew Pursey, managing director of Anglian Bus, told CBW: "Martin is well liked by the public and has been a credit to the company over the seven years he has driven the number 1 route. He has done sterling work on building the patronage the route has today.
"We were very moved by the scenes we saw at the Rockland St Mary's post office. It's difficult to find someone able to establish such a rapport with the community. We are sorry to see him go and wish him all the best with his retirement."  
Martin said he had a "fantastic time" on the buses, and described his passengers as "lovely people".