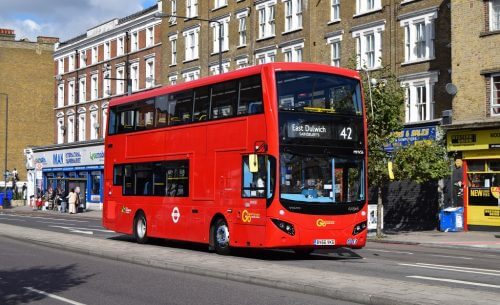 In 2016, urban transit racer Adham Fisher rode on 200 of Transport for London's buses alone in a 24-hour period. He talks to Dominic Ward about the two group attempts to conquer all the buses that followed
London – midnight of September 6, 2017. After departing from a London Bridge hotel, a team of intrepid recreational transport users are about to embark on a record attempt – to ride all of Transport for London's (TfL) 593 standard bus services. They have already made one attempt before in July 2017 – this is the second. Adham Fisher picks up the story.
About Adham
"There's nothing specific about transport I particularly enjoy," said Adham. "Whilst I appreciate vehicles, rolling stock and various other things, I don't actually care that much about them. Certainly, I would not term myself a bus fan, a rail fan, a tram fan, or any other kind of enthusiast really."
Riding transport is something Adham says he does a couple of times a year. When asked about what he does for a living, however, Adham responded: "Because I happen to ride transport for a few days a year, the people who think they know the world i.e. the internet commentators, people seem to think that I'm unemployed, living with my parents and not worth anything. Being a terrible cynic, as well as a pessimist, I prefer to let them go on thinking that.
"I have now held four Guinness World Records for travelling on public transport the fastest, so that's what I do."
The day of his 2016 attempt, Adham was in The Guardian – a fact he still enjoys to this day. He bought one on the way, and started talking to his last bus driver. Afterwards, Adham said he "vainly signed The Guardian article and gave it to him as a present. He hasn't contacted me! Maybe he just thought I was weird."
It was after this solo attempt that Hugo Marrow got in touch from All The Buses – a group dedicated to riding all 593 routes. Hugo said that the idea could be taken further, and it might be possible to ride on every single TfL bus route with five people, with Hugo settling on five people based on his own experiences. Adham said that whilst he was keen on the idea, he didn't want to plan it, and instead left that to Hugo. […]
By subscribing you will benefit from:
Operator & Supplier Profiles
Face-to-Face Interviews
Lastest News
Test Drives and Reviews
Legal Updates
Route Focus
Industry Insider Opinions
Passenger Perspective
Vehicle Launches
and much more!